Grab your camera and hop on the jeep, we're heading deep into the jungle on an African adventure! Today, Kellybell Designs announces an amazing kit called 'Expedition Safari'. It's just perfect for scrapping all your adventures at Animal Kingdom, at the zoo or just some fun in the forest. This kit is packed with lots of jungle treasures including animal prints, 5 safari animals, tropical leaves, African art, 3 stamps and so much more. Plus, there's a fabulous brown cardboard alpha for creating that just-right title for your page.
Check this kit out!
EXPEDITION SAFARI

Kelly has also created a coordinating word art pack of 5 great titles from Animal Kingdom.
This kit is a must-have for your collection, so hurry over to Kellybell's store and pick up this fabulous kit and word art. It's on sale only for this weekend - 35% off!!
This kit was so much fun to scrap with and so versatile too. Here's the layouts I made:
Kellybell's Creative Team always has some wonderful goodies for you with each new kit from Kelly. Make sure you stop by each blog to check out the layouts they made for some great inspiration and scrapping ideas with this kit. Plus grab all the fabulous freebies they made for you.
Now, here's the freebie I made for you. Just click the preview to download. Enjoy!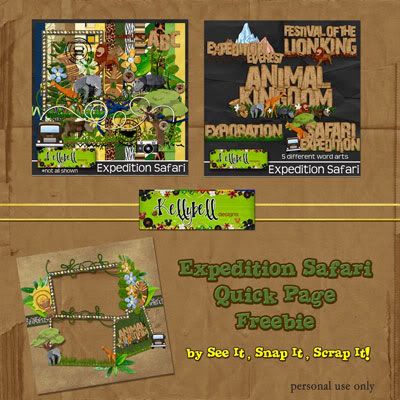 (freebie link has expired)